Villa Arbolada is suitable for a stay of max. 6 people. There are two bedrooms and two bathrooms on the main floor. In addition, there is an apartment with private access, bedroom, bathroom and kitchenette downstairs, next to the swimming pool. Downstairs is also a porche with awnings, so you can sit directly at the pool but in the shade (or in the sun if you wish).
The villa has a large kitchen with breakfast bar, a spacious living room and a very spacious terrace where you can enjoy the fabulous views over the valley. Due to its convenient location, the terrace has sun almost all day in spring and autumn. In summer, when the sun is higher, we are delighted with the shade up to the afternoon.
The kitchen is completely equipped with all necessities such as an oven, fridge, freezer, microwave, dishwasher, coffeemaker and espresso machine. There is a gas stove and a large stock of pans, cutlery, crockery, bowls etc. For inspiration there are several cooking books. And because we are in the province of fresh oranges, the juicer is of course also present!
For those who can't live without we also provide WiFi, free and fast (max 300Mbps). If the outside temperature is low (this chance is nil in summer) you can also sit cozy and comfortable inside. There is both a seating area with couch and armchairs to sink in, as well as a round table to sit together. Besides several reading books and films, there are also several board games available. It is also possible to watch Dutch, Belgian & Spanish TV, or your own device via Chromecast.
In the summer months you can relax in and around the swimming pool. Normally the temperature in June, July, August & September is suitable for swimming (around 28 degrees). In April, May and October posibilities depend on the weather conditions and, of course, your personal preference. 🙂
In spring the water heats up along as there are more hot days, while in the autumn the cooling might be triggered by a cold rain shower. For the hygiene of the swimming pool the use of chlorine is unfortunately inevitable, but fortunately this can be managed in a modern and sensible way.
Chlorine use is minimised by using an automatic chlorine dispenser, combined with additional filtering by a UV lamp and a varispeed pump. See here for more information on pool hygiene, maintenance and using as little chlorine as possible.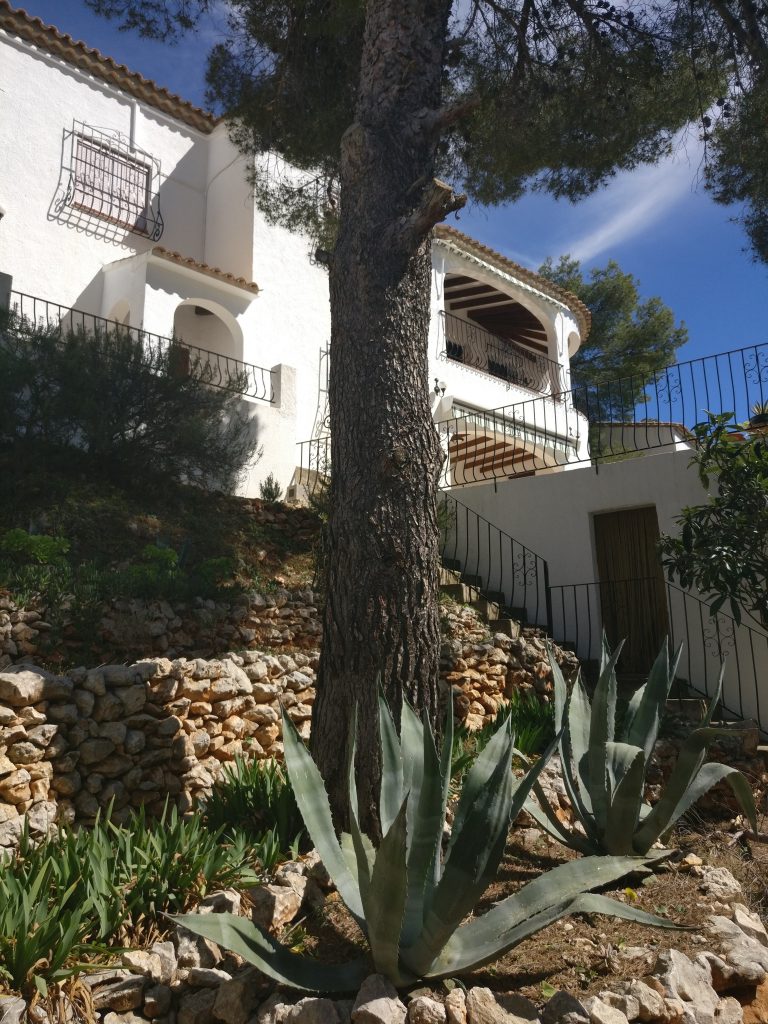 The villa is surrounded by a small forest with predominantly pine trees. In the garden there are some low shrubs (a.o. rosemary), agaves and cactus plants. Birds are active in the morning and especially in the evening. Around twilight some make all sorts of 'strange looking' antics, like diving flights right in front of the balcony. They do so because there are many insects to eat at that time, especially above the pool. If you're lucky, you can even see a squirrel shooting along from your lazy chair. Geckos will often visit after dark. Don't be afraid, they're very cute and will only hunt for insects.